From Shihan Imai
Shihan Imai's guiding sprit, Shorinjiryu Karate-do Renshinkan, Kanto region headquarter
Build your character in being a trustworthy one in any situation needs and forge it to face any difficulties without running away from the reality.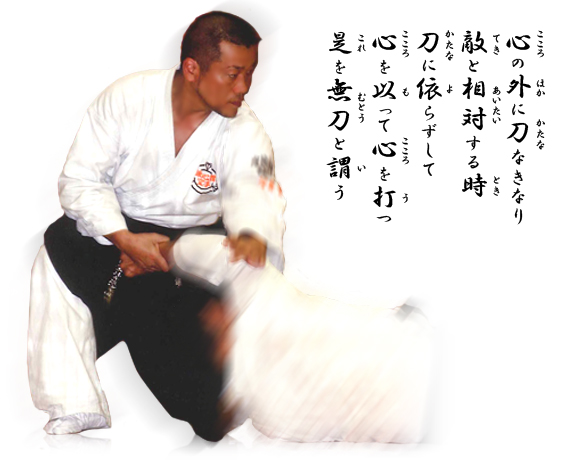 Our guiding sprit shows us how to "first listen to others, and then learn to be in control using our own sense of observation in others and our surroundings". This will help to train our sense of awareness to handle any situation anytime anyplace.
For living harmoniously in today's society, this is a skill to be needed to apply in our social life, school life and in any group setting. It helps us to build our heart (kokoro) to care for others, and not only for ourselves.
5th Dan, Renshi, Shihan, Minoru Imai
As it is well, Shihan Imai was an invincible champion in the east Japan tournament.
His fighting stance is a stance with no-guard against any attacks he would get from facing an opponent, bringing down the opponents without any waste in energy or motion. He had nerve taken "Waza-ari (get points)" in his Kumite (sparring) technique, applying a knockout technique on the opponents only with a single motion which is called an ideal Kumite (sparring).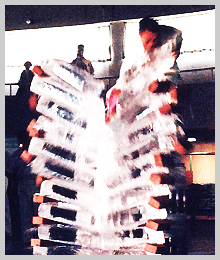 Message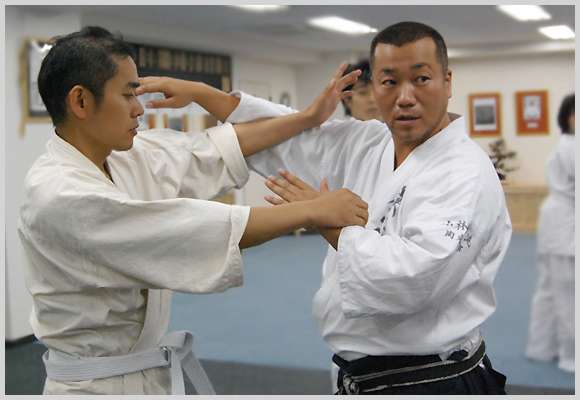 Anyone can make an effort have a rich and fulfilling life.
I believe that if we could train our mind and sprit with richness and strength toward the whole world, we could have the ability to care for others too. I dream that my pupils, who have trained at my dojo, become one of us (trainers or leaders) and go around the world, and then instruct people with our guiding spirits. It is like a tree growing with many branches, having a lot of flowers blossoming on it, and producing eatable fruits in abundance.
"Budo karate (martial art & karate) is "something that no one can do it from scratch, but everyone will be able to reach it eventually."
"Rhythm", "speed" and "power" are important for in all sports, however "breathing", "well-timing" and "feeling (sensing others)" is more important in martial arts. Continuously practicing the basic trainings such as "correct stances", "correct feet movements", "keeping a good posture" and following "correct breathing" are the ideal physical exercises for our body. Everyone from young to old can train in and lean "Budo karate (martial art & karate)", gaining a firm support in life, and develop a fighting sprit through the daily trainings. This fighting sprit will remove all the negative vibes from you, and it will protect your body from illness. We welcome anyone who has an interest to join us for workout regardless of their gender, age and nationality.
"Conduct Guide" of Imai dojo


Please, see our "Conduct Guide" in PDF file.
http://www.imai-dojo.com/pdf/kokoroe_en.pdf
(PDF file size, 260KB)
★Campaign for New Member★
All new members can have a free karate uniform now♪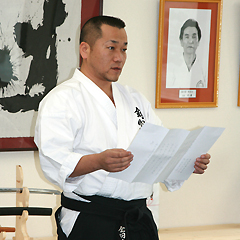 All new members can have a free karate uniform now
6,000 yen/month
(Family discount is available. 5,000 yen)


Entrance fee: 6,000 yen
(Only 5,000 yen per person when more than 2 people register together.)
* You can join us anytime.
【 Admission details and schedule information. 】
Training Schedules
※ National holiday (on weekday) is closed.
Daytime Course (Only for Adults)
Monday to Friday 13 : 30 – 15 : 00
Weekend Course (Children to Adults)
Saturday/Sunday 10 : 30 - 12 : 00
*Available for only free course.
Children Course
Monday to Friday 17 : 00 - 18 : 30
Students and Adults Course
Tuesday to Friday 19 : 00 - 21 : 00
Encouraging forging and establishing a "kind personality", "courageous character" and "concentration skills" in themselves. Building empathy toward others.
Join us for practicing self-defense (for woman).
Let's build your body, mind and healthy spirits through Renshinkan. To be like a Modern Samurai!!