Renshinkan's Competition/Kumite (Sparring)/Kata
Renshinkan Competition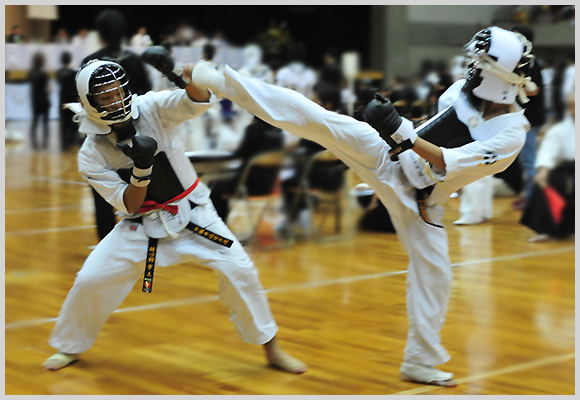 Renshinkan's competition is performed by Kata and Kumite (Sparring).
People younger than junior high school students can't have entry to the competition. On the competition, referees are formally worn Hakama (Japanese Kilt) and it is not as a Western style clothing. The referees' member consists of five people as: one referee (main judge) and four linesmen (sub-judge), and if in a competition each two linesmen measured as 2-for-2, the main referee measures it by wins and losses.
Renshinkan Kumite (Sparring)
Generally, Bōgu (Protectors) is worn in Kumite (Sparring).
On Kumite (Sparring) competition, there are six groups as High School Students: Boys, Girls, General (Men): Lightweight, Middleweight, Heavyweight, and General (Women). All players are worn this Bōgu (Protectors). Because respecting the human life is more important idea despite anything.
This Bōgu (Protectors) is developed in Renshinkan (original from "KARATECTOR") in 1987, and it is made as light and safety for player when practicing Kumite (Sparring). To bring the best sparring techniques as it performed with flamboyance and speed in the competition.
Renshinkan's Kumite (sparring) techniques are called an invincible technique as "An opponent stands face to face first time, he/she has never defended it", such techniques as Gyappu-Ushiro-Mawashi-Geri (Back Round Kick), Nidan-Geri (Two-Step Kicks), Sokuto-Kuno-Ji-Geri (Sword Foot Kick with Dogleg Jump), Gyappu-Sokuto-Geri (Backlash Sword Foot Kick), Rasen-Shuto-Uchi (Spiral Hand Sword) are mastered with day by day Kata training. These techniques are gained from Kata training in which can be built a basic movement and technique.
In order to master these techniques, it is only practiced Kata without Kumite (Sparring) until Junior High School Students in "Shorinjiryu Karate-do Renshinkan". The reason being that training a body as correctly and strongly is more important for those ages students before stating Kumite (Sparring).
Renshinkan Kata
The Kata (patterns) competition is categorized under seven categories:
The elementary school students' groups: Junior/Senior categories, the junior high school students' groups: co-gender category, the high school students' group: Boys/Girls categories and the general (adults) group: Men/Woman categories.
Renshinkan has translated the meaning of Kata as "Pattern (型)" and not as "Form (形)".
In Renshinkan, there are 7 kinds of Kata called Seiryu-Shichiho:
Seisan (半月 "Seisan No Kata")
Ananku (南光 "Ananku No Kata")
Wanshu (汪輯 "Wansyu No Kata")
Chinto (鎮東 "Chinto No Kata")
Gojushiho (五十四歩 "Gojushiho No Kata")
Bassai (抜塞 "Bassai No Kata")
Kushanku (公相君 "Kushanku No Kata")
For more details about competition, Kumite (sparring) and Kata (patterns), please refer to "Japan Shorinjiryu Karate-do Federation International, Headquarter" on the link.
★Campaign for New Member★
All new members can have a free karate uniform now♪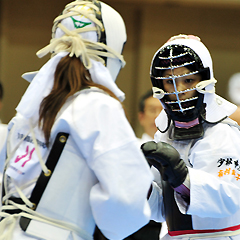 All new members can have a free karate uniform now
6,000 yen/month
(Family discount is available. 5,000 yen)


Entrance fee: 6,000 yen
(Only 5,000 yen per person when more than 2 people register together.)
* You can join us anytime.
【 Admission details and schedule information. 】
Training Schedules
※ National holiday (on weekday) is closed.
Daytime Course (Only for Adults)
Monday to Friday 13 : 30 – 15 : 00
Weekend Course (Children to Adults)
Saturday/Sunday 10 : 30 - 12 : 00
*Available for only free course.
Children Course
Monday to Friday 17 : 00 - 18 : 30
Students and Adults Course
Tuesday to Friday 19 : 00 - 21 : 00
Encouraging forging and establishing a "kind personality", "courageous character" and "concentration skills" in themselves. Building empathy toward others.
Join us for practicing self-defense (for woman).
Let's build your body, mind and healthy spirits through Renshinkan. To be like a Modern Samurai!!