General Course
The true meaning of "kindness" is the fundamental way of "the strong" and "the brave".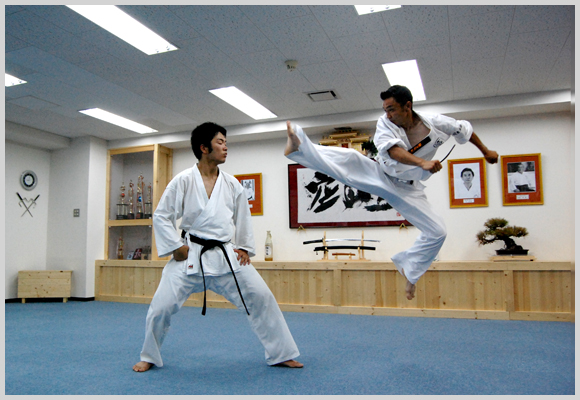 The true meaning of the concept of "the strong" is to discover meaning from the consequences of our actions and take responsibility for them through a strong and focused mind. You can discover that through your daily training at the dojo.
The ultimate goals of "martial art" training in Renshinkan karate-do are "To refine a personality (developing our own sense of worth)" and "To develop a true humanity" for the entire life.
In Renshinkan karate-do "safety (respecting the human life)" is above everything else.
From the "safety" and "respecting human life" view points, which both are the indispensable requirements in all sports, Renshinkan karate-do has taken a strong position on insisting the use of protective gear from the first day its birth as a martial arts style.
Renshinkan Karate-do focuses on perfecting Kumite (sparring) techniques.
The Kumite (sparring) techniques of Renshinkan karate-do aims at developing techniques that increases all manners of "flexibilities to overcome stiffness."
Renshinkan's Kumite (sparring) techniques are known as to be the invincible karate technique, such as Gyappu-Ushiro-Mawashi-Geri (Back Round Kick), Nidan-Geri (Two-Step Kicks), Sokuto-Kuno-Ji-Geri (Sword Foot Kick with Dogleg Jump), Gyappu-Sokuto-Geri (Backlash Sword Foot Kick), Rasen-Shuto-Uchi (Spiral Hand Sword).
What is the meaning of "budo karate (martial art & karate)"?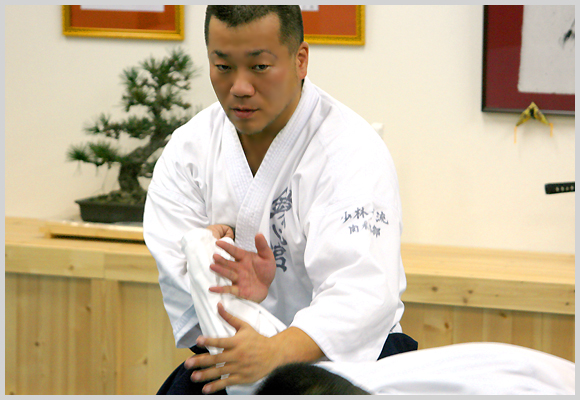 "Budo karate" is not like the fighting sports that aims for winning in competitions. Budo is an ideal way of training not only for physical training and but also for self-development. You can train both your mind and body throughout the entire of your life without any restrictions.
What can Imai dojo offers you?
At Imai dojo, you can learn the training required for martial arts and do the stretching exercises which usually difficult to practice by yourself – leaning to do it either on your own or practicing it by training partners. It doesn't matter how well you can stretch or how flexible you are, the stretching helps your body improve, allowing the muscles that were not been stretched before blood circulation increase its flow to places that were not been stretched before. You can learn your body's weakness as well as hidden strengths. You will notice that you are continuously developing a healthier body and mind while at the same time strengthening all the weakness you felt you had. Once you gained that and everything was developed as it needs to be, you can also discover that you have developed a wider and deeper sense of awareness. Your life will become a more positive on and you shall be interested to face greater challenges in your life facing all challenges that come to you with strength of mind and full awareness.
What is the fundamental thinking of "budo karate (martial art & karate)?"
"What is the meaning of being human?" There are so many ways for answering that question, but for us (the budo karate practitioners), our final goal is to build our character and develop an indomitable sprit to the point "where we could dream what seams to be not imaginable or looks impossible" and "shine the lights of hope where and when the hope seams to be gone or unreachable." We aim to develop full self-reliance and become stronger, because no one can help us become stringer but ourselves.
★Campaign for New Member★
All new members can have a free karate uniform now♪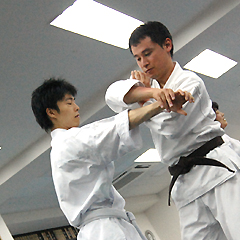 All new members can have a free karate uniform now
6,000 yen/month
(Family discount is available. 5,000 yen)


Entrance fee: 6,000 yen
(Only 5,000 yen per person when more than 2 people register together.)
* You can join us anytime.
【 Admission details and schedule information. 】
Training Schedules
※ National holiday (on weekday) is closed.
Daytime Course (Only for Adults)
Monday to Friday 13 : 30 – 15 : 00
Weekend Course (Children to Adults)
Saturday/Sunday 10 : 30 - 12 : 00
*Available for only free course.
Children Course
Monday to Friday 17 : 00 - 18 : 30
Students and Adults Course
Tuesday to Friday 19 : 00 - 21 : 00
Encouraging forging and establishing a "kind personality", "courageous character" and "concentration skills" in themselves. Building empathy toward others.
Join us for practicing self-defense (for woman).
Let's build your body, mind and healthy spirits through Renshinkan. To be like a Modern Samurai!!