For Self-defense!!
Gain the knowledge and learn the techniques essential for protecting yourself!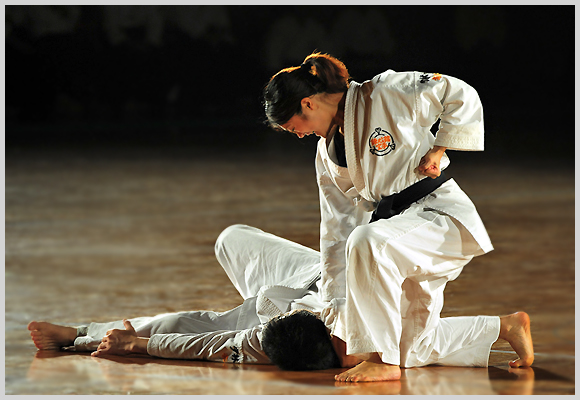 Self-defense techniques are not meant for fighting – fighting back or attacking an opponent, but for protecting ourselves and others when needed while preserving life and protecting the body against all harms.
Therefore, there is a big difference between budo karate and the fighting sports techniques which they mainly aim to defeat their opponents and do self-defense at any cost. More importantly, it is important to learn how to not harm yourself, others or your opponents, but be able to neutralize the attacks safely. The main principle idea behind the concept of self-defense is to always remember to "position yourself in a sage situation" and "keep yourself accounted for your action." Thus, always stand up face-to-face to what threatens you and execute the right action with "well-timing."
Before anything, and before fully developing your self-defense techniques, it is imperative to develop your sense of awareness and mentally be prepared for difference situations you might be facing. For example, "avoid going out during the night time," "walk on busy streets," "avoid entering unsafe areas and places," and "if you accidentally had to faced off a dangerous situation, you need to prepared to think quickly on how you could handle it" as well.
Always think about "what would you do if you ever had to face off a dangerous person?" and "how you would be able to avoid such face offs." Keep in mind that, even in the worse-case scenarios, it is always better to avoid getting into a situation that you would need to rely on self-defense techniques for protection.
By continuously practicing budo karate anyone can learn self-defense techniques at a dojo and develop an increased self-confidence.
★Campaign for New Member★
All new members can have a free karate uniform now♪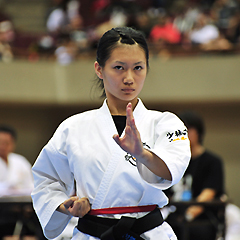 All new members can have a free karate uniform now
6,000 yen/month
(Family discount is available. 5,000 yen)


Entrance fee: 6,000 yen
(Only 5,000 yen per person when more than 2 people register together.)
* You can join us anytime.
【 Admission details and schedule information. 】
Training Schedules
※ National holiday (on weekday) is closed.
Daytime Course (Only for Adults)
Monday to Friday 13 : 30 – 15 : 00
Weekend Course (Children to Adults)
Saturday/Sunday 10 : 30 - 12 : 00
*Available for only free course.
Children Course
Monday to Friday 17 : 00 - 18 : 30
Students and Adults Course
Tuesday to Friday 19 : 00 - 21 : 00
Encouraging forging and establishing a "kind personality", "courageous character" and "concentration skills" in themselves. Building empathy toward others.
Join us for practicing self-defense (for woman).
Let's build your body, mind and healthy spirits through Renshinkan. To be like a Modern Samurai!!